Haven't been here in a few years: Steelhead Diner.
Had a relative in town for business who wanted seafood and this seemed like a good choice……close to her hotel and in an historic area of town near the Pike Place Market.
As the name would suggest this place is about seafood. They do have choices that are more land based for those not enamored with choices from the sea but when in Italy…….
Started with a couple of appetizers…..dungeness crab and shrimp tater tots and jumbo dungeness crab cakes. The nod goes to the crab cakes…..as would be expected from such a crab, the meat was indeed jumbo and well done with a sauce Louie.
On to the mains for the night: the kasu marinated black cod, which we split, and the olive crusted halibut.  The halibut was indeed crusted…and completely black! The black cod was a hit but I lean more toward a similar offering at Ray's Boathouse. This preparation was very light despite the usual richness of black cod.
We had room for a potpourri of desserts…they all sounded great….strawberry basil sorbet,  Theo chocolate pecan (pronounced peecan in this part of the country) pie and blackberry cheesecake. Could not come to agreement on the best of the lot….they were all good.
Nice space. The service was a bit standoffish….true we were catching up on family….but excellent wait staff should check back from time to time without having to pick a time when they are near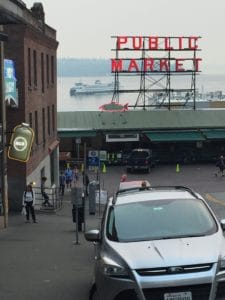 to get their attention. People have also complained about the automatic 20% tip….this is very common in Seattle….so those visiting should not be surprised.